Every time I make a cup of fresh juice, I feel an amazing boost of energy. This ginger carrot juice, in particular, has been my favorite since I discovered the power of juicing to heal inflammation and joint pain. It is packed with anti-inflammatory properties that will boost your immune system and cleanse your body from toxins and inflammation.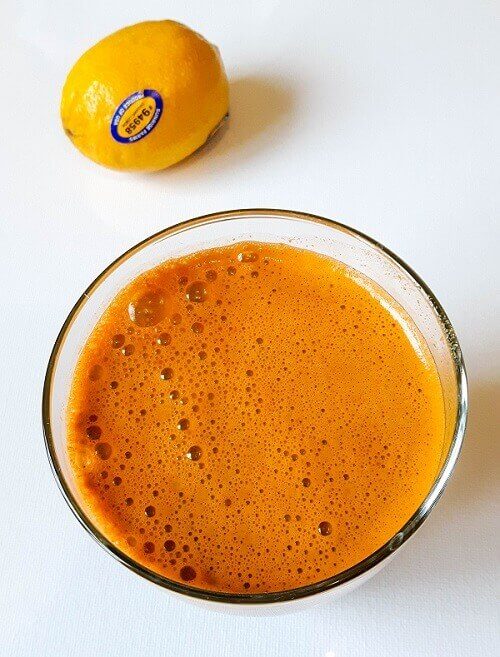 Benefits Of Ginger Juice
I could probably fill this whole page with the amazing benefits of ginger. Many studies demonstrated how ginger helps reduce muscle pain and soreness (1) as well as osteoarthritis and joint pain (2). It's truly an amazing superfood that can make a huge difference in your health:
Ginger contains anti-inflammatory properties that help reduce arthritis pain.
Ginger boosts your immune system.
Ginger improves digestion and proper absorption of nutrients. Improper food digestion can cause nutrient deficiencies (imagine eating a lot of healthy foods and not absorbing their nutrients properly). Ginger helps regulate digestion and improves the absorption of these nutrients.
Ginger contains natural, anti-fungal, anti-bacterial properties, and can enhance the immune system (3).
Benefits Of Carrots Juice
I absolutely love mixing ginger with carrots. The nutrients in carrots help boost the immune system (4) and absorption. So mixing it with ginger is certainly a no-brainer. It is the perfect addition. I noticed it also adds sweetness to the juice.


Carrot is also rich in beta-carotene (that turns into Vitamin A). A very powerful antioxidant. It not only improves your sight but also boosts your immune system, strengthen your bones and helps prevents degeneration. In addition to all the – bonus – hair and skin benefits.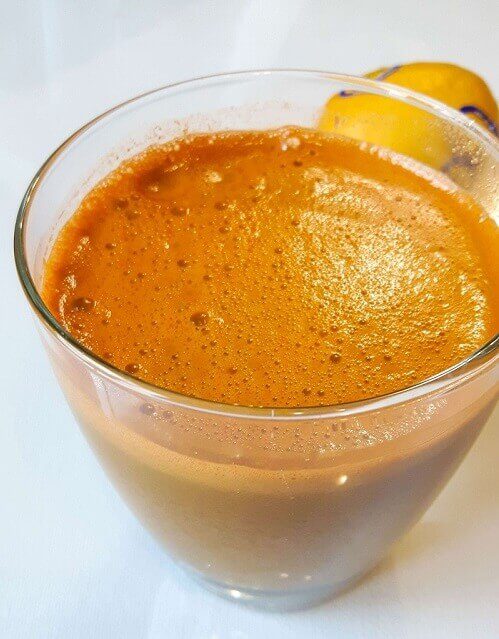 How To Juice Ginger And Carrots
Now, I briefly want to introduce the two types of juicers, if you don't have one already. If you already have a juicer, you can skip this part right to the recipe!
*In the spirit of full disclosure, affiliate links are used on this page, which means that I may get a commission if you decide to purchase anything from this page or website. You will not pay more when buying a product through my link. I only recommend products that I use and love myself.
The Hamilton Beach, Big Mouth Juicer($50): The first juicer I bought and I still use it. It is a cheaper option if you are looking to make some fresh juice without breaking the bank. This juicer is super easy to clean. I put a plastic bag in the plastic container (left of the picture) which gathers all the waste, and all I have to do is throw it out after I'm done. Cleaning this juicer has been easy so far.
Breville Juice Fountain Juicer ($140): Another good quality option, if you want to spend extra for a better quality juicer.
Ginger Carrots Juice Recipe
Yield: 1
Ginger Carrot Juice
A healthy ginger carrot juice to reduce inflammation and boos the immune system
Ingredients
1 tsp of fresh organic ginger root
3 medium organic carrots
2-3 celeray stalks
1/2 organic lemon
1 medium apple
1/2 cucumber (optional)
Instructions
Peel the skin off the apple if not organic. Slice it in half and remove the seeds.

Trim the top of the carrots

Proceed to juice your ingredients

If you want to preserve the juice, make sure you use a dark container (or stainless steel) and store it for a short period of time.
Notes
If you are missing an ingredient, you can skip it and make your juice regardless. There is no right or wrong way of making vegetable juice.
Depending on how much ginger you use, it may taste a bit strong. Taste the juice and add another piece of carrot or fruit to add sweetness. I find oranges work the best.
Click here to also check out this powerful turmeric and aloe vera smoothie that'll help you reduce joint pain and inflammation.
Hey! My name is Sofia and I'm here to help you eliminate lower back pain and piriformis syndrome without spending years in pain stuck in temporary fixes. Click here to learn more about me and how I can help you…