Eliminate Hip and Lower Back Pain Without Spending Years In Pain And Thousands of Dollars In Treatments
Hey there, I'm Sofia.
You may not know me yet, but I'm about to reveal to you the exact techniques I've used to beat chronic lower back pain, piriformis syndrome and hip pain.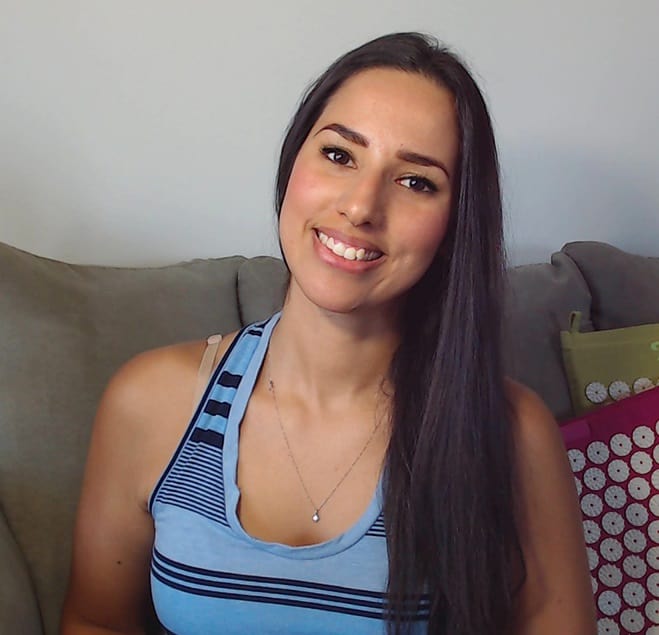 I'm the head coach and creator of this website. But, prior to becoming a certified coach, I lived with chronic pain for 7 long years.
I was diagnosed with piriformis syndrome, an L5-S1 disc herniation, and spinal arthritis.
I tried every treatment under the sun.
The pain was horrific and it robbed me of so many precious years I'll never get back.
My whole life revolved around avoiding pain.
After taking a leap of faith to pursue my dream and become a strength coach...
I became obsessed with learning everything I can about physiology, anatomy, the nervous system and how everything functions and works synergistically.
After years and thousands of dollars invested in my own education...
It felt like I finally cracked the code.
I figured out exactly how to fix piriformis syndrome and reverse my symptoms.
And the crazy part was...
It didn't involve doing a ton of stretches, paying for weekly therapies or taking drugs that weren't good for my body.
Results were fast and long-lasting
I started working out, going for long walks, running and even lifting heavy weights at the gym.
I was performing activities I never thought I'd ever get back to doing.
What I was doing was working. 
And that's how The Back Pain Bootcamp was born...
I needed a program where I can share my daily techniques and routines that gave me my health and life back.
Up until this day...I still follow the exact same techniques.
They're about 5-10 minutes long on average...
And the earlier you start applying them...the faster they start working for you.
Here's what these techniques will help you with:
Pinpoint and eliminate the pain triggers that provoke hip and piriformis pain.
How to protect your hips and spine from compression leading to damage, disc herniations and nerve pain.
My secret technique to avoid lower back and hip pain shooting down your leg...every time you bend over, twist, or lift a heavy item off the floor.
How to sit for as long as you want without spasms or pressure in your hips and lower back. You can apply this little-known technique anywhere (at work, at a restaurant, at a meeting and at home).
Develop robost core and glute muscles supporting your hips and spine 24/7.
How to bend over without throwing your back out or triggering lower back and glute pain.
A quick flow you can do standing that'll give you fast relief wherever you are. (all you need is a wall)
How to release tightness in your hips and legs without the need to stretch every 10 minutes.
11 simple strategies to follow to keep your hips and back pain-free for years to come.
Simply login when you have a few minutes and follow along with the daily 5-10 minute routines. You'll get a done-for-you 6-week plan to follow.
You'll avoid years of frustration by learning exactly what will get you relief now!
If you want to get relief fast and you want to do it without taking drugs that aren't good for your body...
...The need for a ton of therapies every week…
...Spending weeks looking online for random exercises...
Then you need to join the Back Pain Bootcamp.
I've merged these techniques into very short routines you can do at anytime and anywhere.
They are based on years of experience, trial and error, and thousands of dollars invested in my own education and research…
And it's exactly what I've been doing myself.
I'm sharing them with you to save you years of frustration and pain.
By investing a few minutes each day, you'll get relief fast and...
...you'll be giving your body what it needs to heal faster and stay pain-free and healthy.
Sofia makes proper exercise so easy to integrate.

A lot of people are so lost when it comes to injuries. Sofia helps them find the way

Laura Imhoff

Athletic Therapy Home Turf
Today I decided to sign up for the Back Pain Bootcamp!

Yesterday I was in so much pain after a week of work and got up this morning, joined the Back Pain Bootcamp and completed a workout! I feel amazing and can notice the difference.

I am so excited to continue to use this tool to become the person I know I am! Strong, active, healthy and happy. I am so glad I found your blog one-day scrolling through Pinterest

- Jessica ,

USA
I loved that I found a program designed for people like me

I joined the Bootcamp to keep the inflammation and pain from coming back. The stretches are my favorite part, they helped me improve mobility.

Blanca Rivera

USA
Wow, just done your workout and I feel so good already!

I can't wait to start doing this on a daily basis. I have suffered from bulging disc pain, degenerated disc disease and arthritis for 20+ years. Being very weak in the core definitely contributes to the pain I have in my back, hips, and legs. Thank you so much for you easy to follow video, I just love it!

- Tam,

USA
In addition to the full program, I've also added the following bonuses...
'24 superfoods cheatsheet' to help you clear up inflammation naturally
3-week printable meal plan packed with anti-inflammatory recipes to help your body heal faster. (This meal plan isn't available anywhere else on my website)
Clean eating cheatsheets to help you maintain your weight (this is key if you've stopped working out because of the pain)
Coaching emails from me ($170/month value). You'll shortcut your recovery by learning exactly what works and what doesn't.
A 10-minute stress release custom guided meditation to help you release all tension and stress from your body.
The BEST money I have ever spent

This is the best money I have ever spent. The Bootcamp's "Sitting with ease" video helped me so much. The videos are great and easy to follow! I gained more mobility and strength. You'll gain lots of knowledge in this program!

Mona

Switzerland
The info you've given me inside the Back Pain Bootcamp is seriously life-changing. Now I know what is actually happening with my body and how to properly fix it.

Gabriela

USA
Hi Sofia, I'm just beginning the assessment videos and just wanted to say thank you. I was a bit hesitant on spending (again) on back solutions but I am SO glad I did. You have a unique approach and I already see changes in how I approach each day.

With sincere thanks for your guidance,

- Vanessa,

Ontario, Canada
Hi Sofia, Thank you for this. I have seen lots of improvements on week 3 of the Back Pain Bootcamp. I have been able to sit for longer periods of time without disrupting the Piriformis.

Andre

USA
Hi Sofia
Thanks so much for creating your programs – I'm working on Week 1 and My piriformis is gradually becoming less and less sensitive. I notice that my lower back pain goes away after completing these strengthening exercises.

Catherine

Australia
"Hi Sofia

Thank you for this program 🙂
I have to tell you that these corrective exercise are really helping me. I felt so good to walk at work… I noticed I was walking with ease and it felt wonderful!!  I went to the the gym on my day off.
I'm learning a lot that I didn't know. I really love what your programs are doing for me.

Linda

USA
Here's Why You Need To Join The Back Pain Bootcamp Today...
I decided to share my unique techniques and strategies to get you relief fast inside this program for a small fraction of the price of my coaching program.
The program is not a PDF or an E-book. Everything is in HD video format that can be accessed from your computer, phone, tablet or any other device that has internet access.
You'll have a guided weekly plan to follow.
Each daily routine is only 5-10 minutes long.
And if you have a general or specific question, you can ask me directly.
As a member you are my #1 priority. You'll get a ton of guidance and direct support from me.
This is not a membership program where you have to pay every month.
I do update the program with new routines, techniques, and bonuses very frequently but... you'll only pay once.
As soon as you sign up, I'll give you instant access to the training videos. That means you can start applying the techniques right away.
All of the videos are available online inside a very easy to access membership area, so you'll be able to access them at anytime from any device.
I'll also start sending you the coaching emails to guide you along the way, and below each weekly plan, you can submit your questions and get input from me personally.
You are about to discover the foundation of building a strong pain-free body...simply by following my 5-10 minute routines.
Imagine how your life can change once you build a strong, solid foundation the right way that'll keep you free from pain for years to come.
In addition, I've backed everything up with my personal 60-day money back guarantee if you don't feel any change after implementing what I teach you just reach out to me and I'll refund you 100% of your investment.
...and you get to keep all the downloadable bonuses as my gift to you.
Click on the sign up button and let's get started today.
I look forward to seeing you inside the Bootcamp
Stay Strong,
Sofia
P.S. - The program price may increase at any time as I'm constantly adding in more bonuses, video tutorials and coaching. When you join now you'll secure lifetime access to future updates, and you'll never have to pay again even when the price goes up.
(one time-payment. Lifetime access)
Join Over 100 Members!
I literally poured everything into creating this program...sharing everything that helped me heal my body and get my life back.
If I can do it, I wholeheartedly believe you can do it too.
This program will save you years of frustration and so much money in the long run.
And if for some reason it doesn't work for you...you risk nothing. As long as you agree to implement what I teach you.
Frequently Asked Questions
Is the program for piriformis syndrome or just back pain?

This program will help you with piriformis syndrome (glute pain), hip pain, and lower back pain. 

How long do I have access to the program?

You have lifetime access!  Take your time with each weekly plan and repeat the routines and techniques until they're fully incorporated. I still do these routines on a daily basis!

Will you just give me the same exercises I'm already doing?

No. The first routines are very different and specific to first settling the pain, and protecting your spine and joints from pressure.

You won't be doing any crunches, or typical stretches you're seeing online.

The goal is to give you fast relief… while fixing what's been causing the pain.

I explain everything I do and why I do it. 

I'll also share with you how to get back in shape safely so you can rely on yourself in the future. I don't want you to keep relying on others for relief and that's always my goal behind each program I create.

Do I need equipment to complete this program?

The program is almost fully bodyweight. I use a mat for some routines.  I include the resistance loop band in a couple of routines (you can get them for less than $10 on amazon) YET they are completely optional. You can totally do without them. 

Do I need a gym membership to do this program?

Nope! All you need is a bit of space and yourself. You can complete this program fully from home.

What if I need help or I have a question.

Below each weekly plan there is a section where members can submit any questions they have and I answer them within a few short hours! I'm always present inside the membership area. You can also email me and I'll get back to you as soon as possible. You're not on your own and you have my full support inside the program.

Is this an Ebook pdf or video?

The program routines, techniques and tutorials are ALL in HD video format. So you'll be able to follow along step-by-step with me. 

The meal plan and printables are in PDF format. 

The bonus relaxation meditation is in .mp3 format so you can download and enjoy at anytime!
(one time-payment. Lifetime access)
Join Over 100 Members!