Today, I am sharing this delicious low carb coffee cake recipe that will satisfy your carb cravings.
My priorities have shifted lately since I started following a low starch diet, I now highly value my health even more than before.  For this reason, I decided to eliminate coffee from my diet and become best friends with teas, pumpkin lattes and more teas. I used to be a heavy cafe au lait drinker and was not gonna give it away for anything.
Since following a grain-free diet, I started facing my own insecurities (though that's for another post).  It's true that food can provide a lot of comforts and a sense of security.  
Most comfort foods are made of grain flours and sugars. When you stop eating them, it's like you have nowhere to hide.  You can no longer grab that piece of bread, savor that donut at the end of a stressful day, or grab that burger at the mall because the smell of the buns is just so irresistible, and life is too short not to.
So by avoiding that feeling of reaching out to comfort food, you are now facing the feeling and not "distracting" it. I want to write more about this in another blog post..but for now, let's keep this post about the low carb coffee cake recipe I'm about to share 🙂
This recipe is so delicious. I completely made it up as I was craving something to snack on with tea. It turned pretty amazing not to share it with you.. So here goes
LOW CARB COFFEE CAKE RECIPE
Low carb coffee cake – gluten free, paleo, GAPs, grain free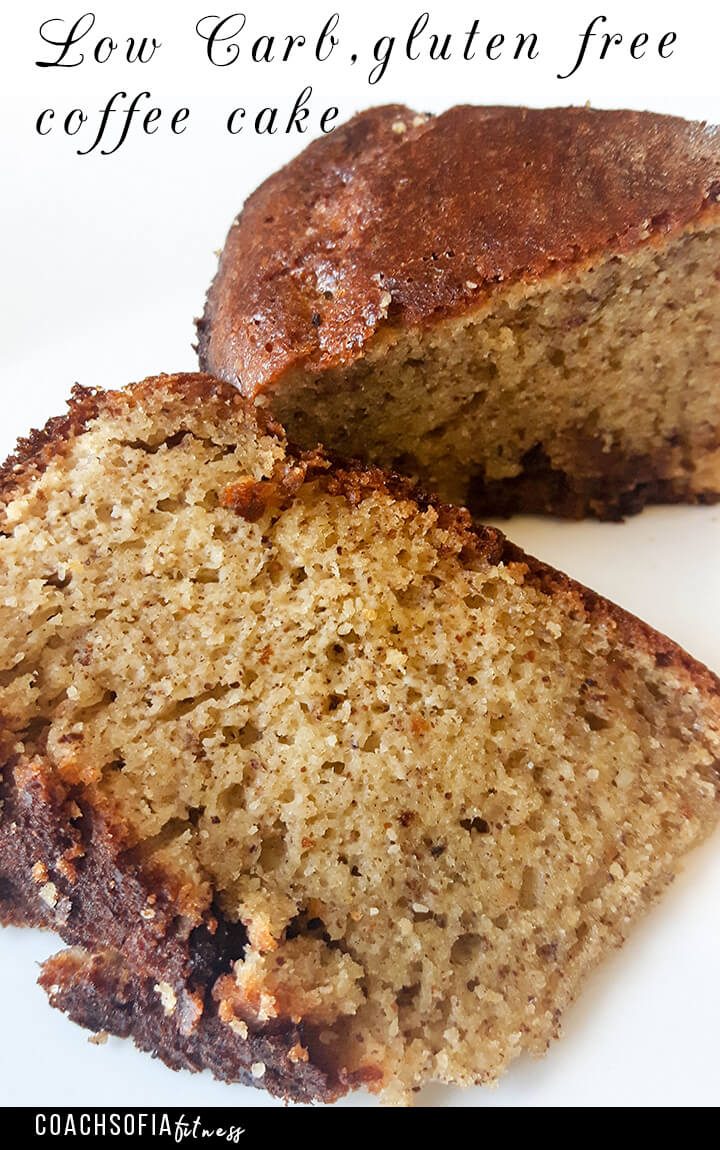 Ingredients
3 eggs
1/2 cup blanched almond flour
1 tbsp chocolate chips (semi-sweetened)
2 tbsp melted butter
1/4 tsp baking powder
1 tbsp organic honey
Few drops of vanilla extract.
Pinch of salt
Instructions
Preheat oven to 350 degrees F. Grease an oven baking pan with coconut oil.
In a large bowl, mix all the ingredients together.
Transfer the mix onto the oiled oven baking pan - I used a glass pan.
Bake for 30 minutes - you can poke the center of the cake with a fork to make sure it comes out clean and dry.
Let the cake cool down at room temperature for about an hour before slicing it.
This cake can be served warm or cold after refrigirating.
I hope you give this recipe a try! I love sharing my low carb/low starch recipes on the blog.  I believe that eating low carb does not have to be hard or depriving.  Eating a low starch diet can help reduce inflammation, bloating and a myriad of other digestive issues.
Want more? Click here to check out this recipe for low carb pancakes…
Hey! My name is Sofia and I'm here to help you eliminate lower back pain and piriformis syndrome without spending years in pain stuck in temporary fixes. Click here to learn more about me and how I can help you…