I'm finally posting this yummy low carb chicken stuffed peppers recipe!
Incorporating a low carb diet can be quite challenging. If you are used to eating grains and you love bread (like me) then you may get really discouraged.
For the past years, my diet was heavy in grains and carbs (brown rice, starchy vegetables, whole wheat bread, and quinoa). Considering my active lifestyle, I didn't really gain weight, but I didn't look my best either.
While I still chose my carbs wisely, I did not have a proper schedule for them. That was my issue. I would load up my breakfast with carbs, my lunch and my dinner.
Lately, I have been monitoring my food journal and I did notice that I consume lots of carbohydrates. I also happened to get really interested in the bulletproof lifestyle after reading this book. I always loved fats – I always use coconut oil and grass-fed butter. So I started incorporating it more into my meals.
I noticed a lot of benefits from doing that:
Sustain energy throughout my morning – I no longer get those energy slumps at 10 am
I have more energy during my workouts
My digestion improved
I get satisfied quickly during my meals. Often, I can't even finish my plate
So I have been experimenting with incorporating more healthy fats into my meals..which inspired this recipe today 🙂
I was pretty skeptical at first about whether these would turn out good, as I never made stuffed peppers before without some kind of grain. To my surprise, these were so filling. I had two halves. They were also super delicious.
They are super easy to make, and I had a lot of leftovers as well.
The ingredients are very dense and nutritious.
Delicious, creamy, low carb stuffed peppers that won't leave you hungry! Check out the recipe now!
Few notes:
You don't 'need' to use any oil in this recipe. The cheese is enough to add moisture to the peppers.
I used red, yellow and green peppers just because they came in different colors in the bag. You can totally use only green or red or yellow peppers.
The flaxseed is optional. It just adds a nice texture to the chicken.
I cooked the chicken briefly in a pan. If you don't want to bake it, it won't change how these will turn out. Just cook it in a pan for a few minutes, it will continue cooking in the oven.
PS: Grab your FREE guide packed with anti-inflammatory smoothies to help you reduce bloating, inflammation and joint pain.
 Low Carb Chicken Stuffed Peppers
Yield: 5
Low carb chicken stuffed peppers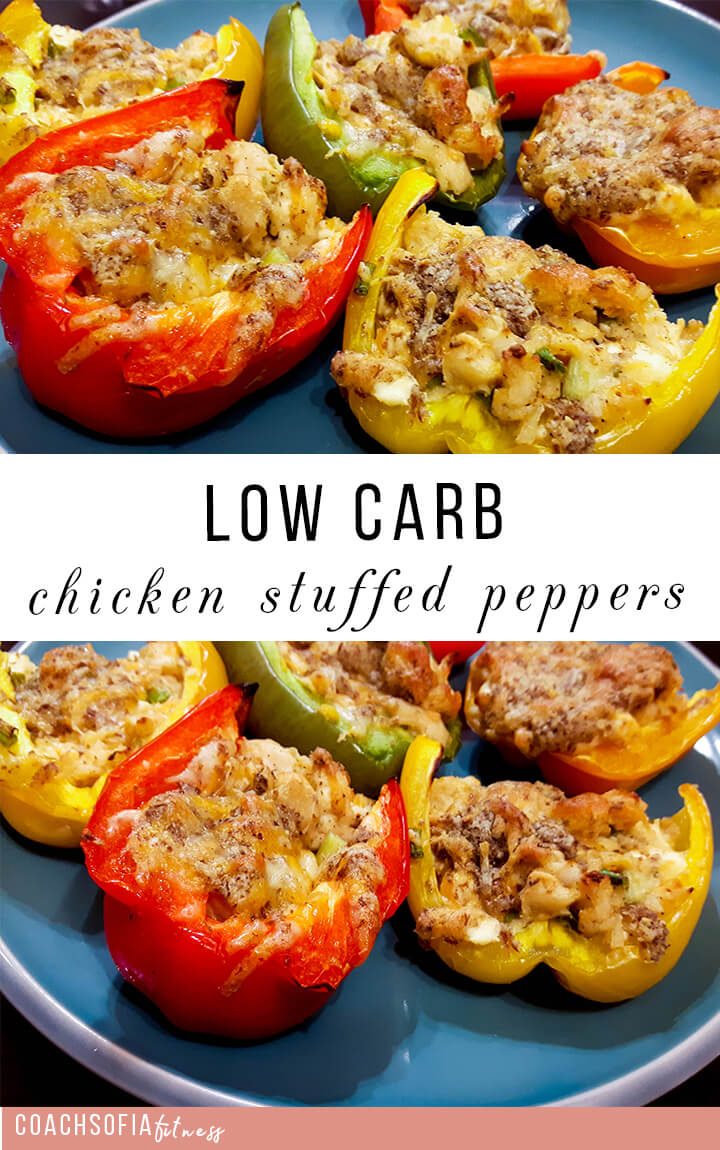 Additional Time
5 minutes
Ingredients
4-6 peppers halved and seeded
Cooked chicken breast - shredded
1/2 cup of grated cheese ( I used cheddar)
1/2 cup of cream cheese
1-2 chopped chives
1/2 tsp garlic powder
Salt and pepper
*Breading*:
2 tbsp butter (microwave for 10 seconds to bring to melt)
1/4 cup grated cheese
1 tsp flax seed
1/2 cup almond flour
Instructions
Preheat the oven to 400 F degrees.
Cut the peppers in half, remove the seeds and bring to boil for 5 minutes (or microwave) - remove and let sit for few minutes
While the peppers are sitting. Mix in a bowl the grated cheese, chicken, cream cheese, spices.
Mix the breading ingredients together.
Start stuffing the peppers with the chicken mixture, and add some breading on top.
Place in a large baking sheet.
Bake for 15-20 minutes until the top turn brown (as in the picture)
Enjoy!
[amd-yrecipe-recipe:7
My goal for the upcoming year is going to be more focused on low carb recipes – I still think carbs are a very important fuel, but I consume most of them after periods of high activity or workouts. In addition to anti-inflammatory recipes, as someone who is a chronic pain warrior (yes I refuse to settle for it), I am committed to spreading the world and sharing some amazing "joint" friendly recipes that I make that help me get rid of joint and chronic pain.
I hope you give this recipe a try and let me know how it turned out for you 🙂
---