Today I want to go through a few, very common, piriformis syndrome specific exercises and treatment techniques to avoid that may make the pain worse or further irritate the piriformis muscle. Here's what this post will cover:
Why these piriformis specific exercises don't work (or make the pain worse) while in pain
Piriformis syndrome exercises to avoid when in pain
4 possible reasons why piriformis syndrome won't go away
Can you exercise with piriformis syndrome?


Piriformis syndrome is one of those nagging chronic pain conditions where it may feel like it just won't go away no matter what you do. The piriformis muscle is a deep hip stabilizer and it gets extremely sensitive and overactive when there is a hip muscle imbalance or dysfunction.


Before we get to which piriformis syndrome exercises to avoid, you can read more about piriformis syndrome, the cause and how to treat it here. The link will open up in a new tab…so feel free to save that post for later as well if you can't read it fully now.


Why These Piriformis Syndrome Exercises May Not Work
Let me briefly explain to you why it may not be a good idea to do these exercises when experiencing pain… When in pain, the muscle and connective tissues are extremely sensitive to triggers. Additional tension can make the muscle spasm even more.
The pain also inhibits prime movers (in this case the largest muscle in the body – the gluteus maximus) and other hip muscles such as the gluteus medius leading to compensation during any hip extension or abduction movement. The piriformis muscle will compensate for this inhibition which can cause more pain and spasms during and after the exercise.


Piriformis Syndrome Exercises To Avoid
Now let's get to the list of exercises to avoid:
Clamshell: The clamshell is a fantastic hip strengthener exercise. However, if you're experiencing spasm and pain, the motion or movement pattern specific to this exercise can make the pain worse. Because the piriformis is an external rotator, it can quickly start compensating for the glute medius. It's best to introduce this exercise later after you build a solid gluteus maximus and medius foundation.


Side-lying leg lifts: Again, this is not a bad exercise. But if you're experiencing pain and you don't have a trainer or therapist guiding you and pointing out if you're compensating during this exercise, it's easy to start using the piriformis here (by rotating the leg out) which can trigger the pain or make it worse afterward.


Cycling: Here's why you should avoid cycling or using a stationary bike if you have any kind of lower back or hip pain…When you sit on the bike, especially if it doesn't have back support, it's easy to start rounding the back, putting additional stress on the lumbar spine…


In addition, when cycling, the primary muscles used are the hip flexors. The hip flexors tend to get extremely tight and overactive due to our sedentary lifestyle. The flexed posture – when cycling – exacerbates the existing hip imbalance (overactive and tight PSOAS muscle, weak glute muscles, weak core muscles) and will put additional stress on the lumbar spine and hips.


Plyometrics: Including any exercise that involves jumping or high-intensity movements done in a short amount of time. Jumping puts a lot of pressure on the hip joints. Because the pain inhibits the big muscle responsible for movement (prime movers), it's easy to start compensating and feeding the imbalances.


High-intensity exercises can also be just too much for the body to handle at this moment. If you don't want to trigger a flare-up, I would avoid doing any type of plyometric exercises like jumping, running or drills for a while and focus on building a strong core and glutes foundation first.


Foam rolling the piriformis: First of all, self-myofascial release should only be used to release the piriformis muscle if the muscle has been identified as tight and overactive. Simply feeling tightness doesn't tell you that the piriformis is indeed tight…


You can test if the piriformis needs release (along with a full assessment of other hip muscles) inside Piriformis Control.



When I say tight, I mean the muscle has shortened and is very overactive. A shortened piriformis muscle will alter movement on a daily basis. If you pay attention, you'll notice your feet and knees rotating out when hinging or squatting down to sit down. You may also notice your leg rotating out slightly when standing or walking.


In general, I recommend NOT putting direct pressure on the piriformis muscle. In my opinion, the best way to release the piriformis is with a massage ball and working on the areas around it against the wall. You want to always control the pressure otherwise he muscle will resist what you're trying to do and just contract even more.


4 Possible Reasons Why Piriformis Syndrome Won't Go Away
Weak Mind-Muscle Connection
Muscle amnesia is a serious condition that prevents people from using their muscles when needed. Perhaps you've heard of glute amnesia or "dead butt syndrome" before… That's when the glutes are failing to fire up when needed. Well, the same is true in regard to the deep core muscles and other deep stabilizers that the joints rely on for support and stability.


Most of us run our days on auto-pilot. Not taking the time to strengthen the mind-body connection combined with a sedentary lifestyle is how we begin developing muscular imbalances that lead to pain, injuries, and dysfunction.


A simple way to start building a stronger mind-body connection is through mindfulness meditation. You can practice for a few minutes before your workouts to connect with each part of your body and to also help you stay mindful of how you're performing each repetition.


Click here to download a free mindfulness meditation.
Not Addressing Underlying Muscular and Postural Imbalances.
Exercise should be used as a way to correct the muscular imbalances and postural deviations that have been identified first. If you're just doing a ton of exercises every day and they're not working, that's a good indication that the underlying problem hasn't been addressed. A throughout assessment is required and should be done before starting any exercise program to fix the muscle pain.


A thorough assessment will show you exactly which muscles are weak and need strengthening and which muscles are short, tight, causing postural changes and need to be released. Piriformis Control includes a full assessment to find these imbalances.


Failing to Follow Progressive Overload
One of the best ways to build strength without the risk of re-injury is progressive overload. When choosing which exercises to do, always pick 2-3 exercises to focus on. Don't worry, you'll actually be getting the most out of the exercises by going for fewer exercises and focusing on completing each repetition with proper form. As the exercises start to feel easier, you can add more challenge by:
Adding more repetitions to each exercise, or one more set to the existing exercises
Adding more resistance (a resistance band or making the exercise harder)
Adding a new exercise (once the current 2-3 exercises have been mastered)


One of the biggest advantages of focusing on fewer exercises is that you're able to stay consistent with your routine without flare-ups. The Piriformis is a deep gluteal muscle and a major hip stabilizer so it's impossible to NOT engage it completing any hip exercises.


Failure to Track and Monitor Progress
You need to re-assess your exercise routine every 3-4 weeks and monitor if you're making progress. A reduction in pain and an increase in strength and mobility is a good sign that the exercises are working. If not, it's important to make changes and perhaps even regress to fewer exercises.


Recommended Program: Piriformis Control Program.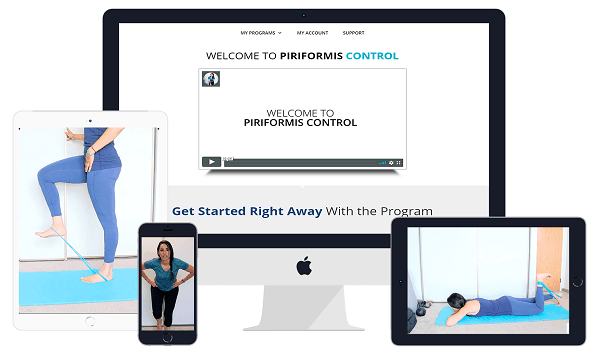 Please don't forget that pain is a messenger. This is how your body communicates to you that something is wrong and it needs your attention. Numbing the pain with pills doesn't fix the underlying problem.
Without the stomach-ache, you'd have no idea you have food poisoning.


Your body gives you signals (pain) to get your attention. Pain is your body's intelligent response to external stressors (environmental, physical and emotional).


"You have to feel it to heal it"
Can You Exercise With Piriformis Syndrome?
Yes, you can! As I explained before, the main goal is to avoid irritating the piriformis muscle further during movement or exercise. Everyone is different and I can't give you a definite exercise plan to follow without first assessing you and learning more about your health history, but in general, here are some guidelines to follow:


Start by foam rolling the quads releasing the PSOAS and the TFL muscle to make sure they're not affecting your posture and form.
Warm-up by activating the gluteus maximus first, then the gluteus medius.
Activate the deep core muscle and perform deep belly breathing.
Take a break to notice how you're feeling.
Start with full-body, bodyweight exercises that don't place any load on the spine or hips.
Choose 3-4 exercises maximum.
Use a resistance band around your hips when performing squats to ensure you're activating the gluteus medius.
Complete 7-8 repetitions when training legs to avoid fatigue and compensation.
Throughout your workout, make sure you're breathing deeply and bracing your core to stabilize your spine (don't suck your belly in).
Note: I found a very helpful post you can read here that takes you through the full anatomy of the hip muscles, the piriformis muscle, and the gluteus muscle group. (If you'd like to learn more!)
Related: How to heal from piriformis syndrome when you've tried everything else.
You made it this far! I hope this post was informative and helpful. I've also created a video version of this post below. If you have any questions or want to simply share your thoughts, leave me a comment!