The recipe I want to share with you today is a delicious chocolate whey protein mug cake that contains no flour, is low in carb but will still satisfy your sweet cravings. It's unbelievably easy to make too. You can't miss it up.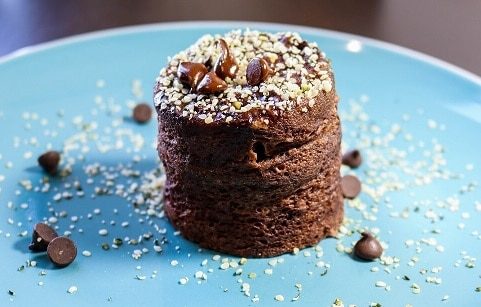 I love supplementing with protein powders but I just can't drink protein shakes. And a while ago I started using protein powders as a flour substitute for almost everything and it works amazingly well.


I've used protein powder to make waffles, pancakes, muffins and a ton of recipes you can find here. My recipes are all low carb and high in protein.


How To Bake A Mug Cake
I use the microwave to bake the mug cakes which only take about 2-3 minutes. You can certainly use the oven but I find the microwave to be extremely convenient because I can use a regular mug and it only wakes a couple of minutes. This cake took me about 2 minutes to bake.


I like to mix everything in a bowl before adding it to the mug. But I've also mixed everything in the same mug before and it didn't get stuck to the mug or anything.


What I also love about the microwave technique is the cake turns out very light and fluffy. It's just a no-excuse way to prepare a healthy snack with whatever ingredients you have at hand.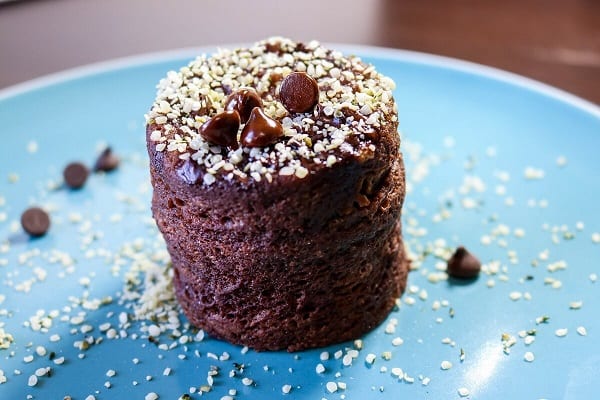 Full Disclosure: This post contains Amazon affiliate links. If you purchase from the Amazon website, I get a small commission from them, you won't pay more. Thank you for supporting this blog!
Best Protein Powders To Bake The Mug Cake
In general, any protein powder will do. I've used whey protein for this specific recipe. But, I've also use Hemp yeah! protein for other similar recipes and It tasted even better. My favorite is the chocolate and vanilla Hemp Yeah! protein

Flourless Protein Mug Cake Recipe
The ingredients are so simple, I'm gonna share them with you below!
Just one more thing before I jump to that. If you don't have Whey protein, I would use about 1/4 cup of oats or oat flour. You can also add almond or coconut flour to the mixture. They are both low in carbohydrates.
First, you want to take the coconut oil and spread it on the inside of the mug. You can also use oil spray!

Mix all the ingredients in the mug very well. You want to ensure there are no clumps.

Microwave for about 30 seconds first.

Mix everything very well again, and microwave again for about 1.5 minutes.

Remove from the microwave and flip the mug over a plate.

Drizzle with some hemp seeds and serve!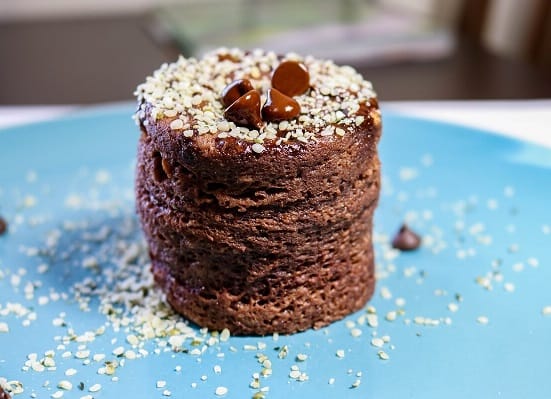 Related recipes:
Hey! My name is Sofia and I'm here to help you eliminate lower back pain and piriformis syndrome without spending years in pain stuck in temporary fixes. Click here to learn more about me and how I can help you…