Yes, there is a way to enjoy your pumpkin pie guilt-free and make it a healthy option too 🎃 . This sugar-free pumpkin pie recipe I want to share with you is low-carb, gluten-free, and packed with antioxidants…which is important in keeping your body free from chronic inflammation.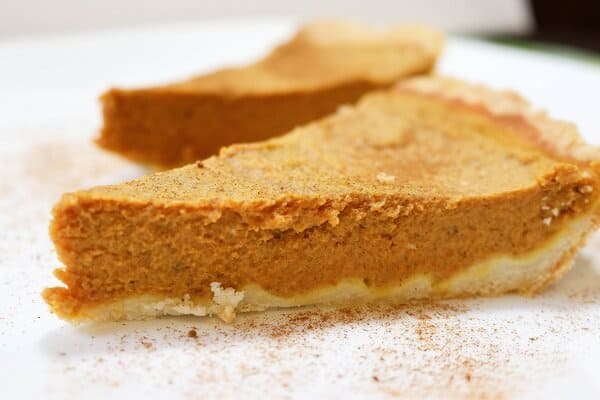 While pumpkin pies are packed with pumpkin which has a ton of health benefits, the added harmful additives and ingredients in conventional pies turn it into an unhealthy dessert packed with sugar and hydrogenated oil.

Benefits Of Pumpkin
Pumpkin is packed with Vitamins and minerals. It is also high in antioxidants that keep your cells healthy. So eating pumpkin is so beneficial for your body. And you can eat it and enjoy it every day! A lot of people wait until thanksgiving to make pumpkin pie, I love to have it anytime throughout the year.
How To Make The Low Carb Crust
The only flour that worked for me was almond flour. I've tried to make the low-carb crust from scratch several times and I messed it up every time. Coconut flour specifically just didn't work alone. The mixture wouldn't stick.


This one turned out exactly like the conventional crust and it tastes amazing too. All I did was add a bit of brown rice flour. If you're on the keto diet, you may not want to add any rice flour but you don't need a ton. Just a tiny bit to help it stick together.
Related: Pumpkin Muffins – low carb
Sugar-Free Pumpkin Pie Recipe
The most important part of this recipe is the crust. Make sure to get that one right. You can't mess up the rest of the recipe as long as you follow the instructions below.
Start by mixing all the crust ingredients together until you reach a consistent dough. You can add water/flour as necessay. Cover and set aside.

Take a medium bowl, and beat the eggs with a hand beater, or a whisk. Add the ingredients one by one as you mix everything together.

Take a medium sized circular pie plate. Grease it with some coconut oil. Then take the dough and gently spread it over the plate. Trim any overhanging edge dough.

Pour the filling into the crust

Bake the pie for 15 minutes, then lower the temperature to 350°F and bake for 45 more minutes.

Refrigirate for 2-4 hours. For best results, refrigirate over night.
You can substitute milk with almond milk/coconut milk.
If you have nuts allergies/sensitivities, you can substitute almond flour with brown rice flour (just be aware that this won't be low-carb anymore).
You can double the quantity of the almond flour (and add an egg) and just use the brown rice flour as needed until you reach the consistency you want. 
I hope you give this recipe a try! If you have any tips on how to make this even better and easier to make, share it with me in the comments below. Happy Halloween!